Training for companies
We focus on those that work with you to get the world moving: YOUR human capital. We will provide them with the full range of training options. Our business courses are personalised and tailored to deliver the skills and competences you need.
Skills-based training courses for companies
Ongoing training is a powerful tool, providing you and your team with instant adaptation to the skills and competences you need in a rapidly changing business environment. We will be with you every step of the way, offering integral, innovative and personalised training through an extensive catalogue of corporate training courses. We analyse the opportunities to improve your teams, enhancing their existing abilities and enabling them to acquire new skills.
Training plans for companies
Need a short, mid or long term training plan for your business? We'll give you all the advice you need and take charge of everything. From the design of personalised contents to monitoring and assessment. Our teaching method will increase the skills and abilities of your staff.
Training courses for employees
Meeting labour market needs is not always easy. We organise and manage training plans for employees in any sector and setting: Occupational Risk Prevention; food, logistic, cleaning and technical industries, etc.
The benefits of corporate training in Spain and Portugal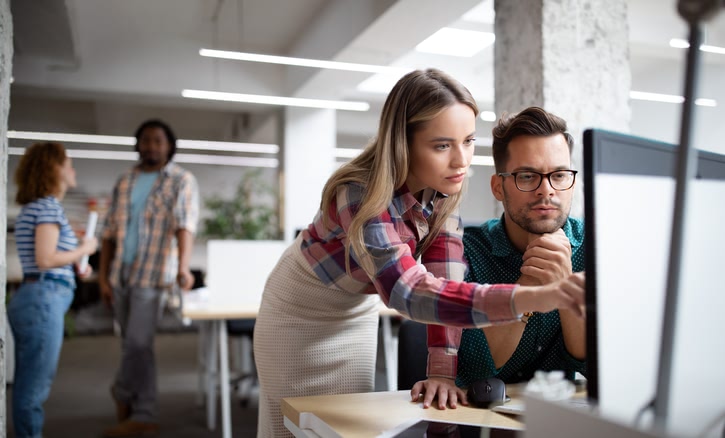 The digital age has brought new work methods and production methods. Technology is advancing at breakneck speed and you must act to make sure your employees and their skills and competences don't fall behind. Ongoing corporate training will keep you ready to react and meet the demands of your market.
Our aim is to strengthen YOUR leadership, and training your staff plays a key role. Providing your human capital with the tools they need to tackle tomorrow's challenges. Offering them training will boost their motivation and sense of belonging, and they will apply the newly-acquired skills and know-how to their jobs, cutting the time it takes to meet their targets.
Here at Nortempo we design personalised training plans based on your current circumstances and those of your workers, as well as your proposed objectives and goals. We offer you our full range of teaching materials and the finest coaches and teachers, guaranteeing a rapid return on your investment.
Other human resource services for businesses
Need to find a specialised technician urgently? We'll take care of it. Leave the selection of your professionals to us.
Not only do we deliver corporate training solutions, but we also handle all the human resource services you need.
Why not combine training actions for your business with hiring temporary workers? You'll find just what you need on our job search engine.
We can help you externalise any area of your business. We will improve your efficiency, flexibility and competitiveness. We will provide you with increased production capacity as well as skilled and effective personnel.
We can provide you with legal advice on labour issues in order to prevent or resolve possible conflicts. We are experts in collective bargaining.
Our aim is to work with you in order to build a better society. We can help you integrate disabled workers into your company.